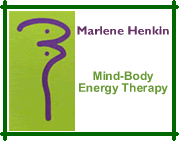 Mind-Body Classes

---
---
---
A NOTE FROM MARLENE:
I have retired and am living abroad. Please enjoy the materials on this site. If you have any questions, or if you'd like a referral to other practitioners, you can email me.
"I began studying Reiki for myself - as a way for me to be more focused, centered and calm. This began what has become, and continues to be, a wonderful journey of self exploration and personal growth. As I became more intuitive and compassionate, my desire grew to share this gift with others." -Marlene Henkin-
Usui Reiki certification classes, reflexology and other energy workshops are available. Contact Marlene for information and questions about class topics, schedules and locations.

With a minimum of four persons, classes can be privately arranged.

You can learn more about Marlene Henkin's services to organizations, which can include classes on a variety of health topics.



"Having taken two reiki courses from Marlene, I can attest to her warmth, honesty, patience and serenity as she passes on her knowledge, which is boundless, I think !! I am loving reiki more and more with each passing day." -Kathy Manzo
References from additional class attendees about Marlene Henkin's energy therapy classes are available upon request.